Parallel sessions programme and Poster sessions programme
(if you have problems opening these files in the browser, please save them to your computer disk - use the right butom of the mouse - and afterwards open them from the disk).
---
TENTATIVE PROGRAMME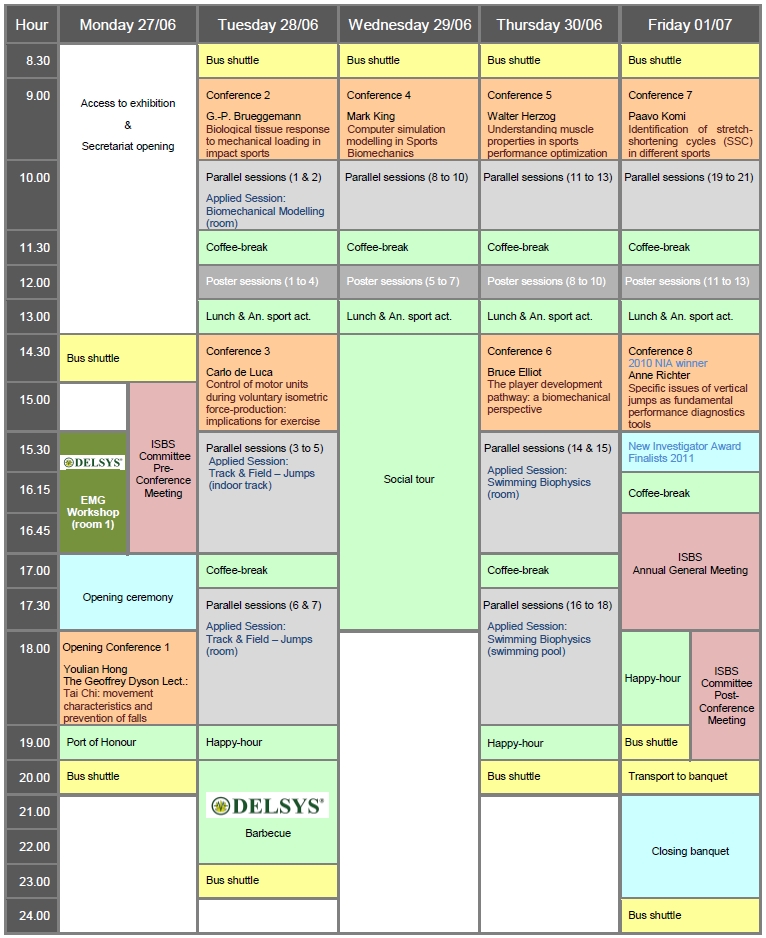 In totals, we will have:
8 Invited lectures
126 podium presentations divided by 21 parallel sessions
200 poster presentations divided by 4 sessions with 5 parallel presentation groups of 10
3 parallel applied sessions
---
TOPICS
Biomechanics of team sports
Biomechanics of individual sports
Shoulder in Sports Biomechanics
Biomechanics of gait and running
Sport materials and equipments
Biomechanics of injuries and treatment
Biomechanics of muscles and connective tissue
EMG applied to sports biomechanics
Biomechanical modelling and simulation
Biomechanical instrumentation & evaluation methods
Teaching biomechanics
Miscellaneous
---
SCIENTIFIC PROGRAMME

Scientific Events
The ISBS2011 symposium will include:
Invited conferences
Podium presentations
Poster Sessions
Commercial/Technical Exhibition
Multimedia presentations
Applied Programmes
Pre- and Post- Symposium parallel courses may be proposed
Applied Programmes
Applied programmes are traditional in ISBS Symposiums. ISBS2011 will include the following Applied Sessions:
---
SOCIAL PROGRAMME

Social Events
Opening ceremony
Port of honour
Coffee breaks
Happy hours
Animated Sport Activities
DELSYS barbeque and popular night party
Social tour – Porto World Heritage area and Port Wine tasting experience
Closing Banquet
Social programme for accompanying persons (available to all participants of ISBS2011, under extra fee)
Pre- and Pos- symposium tours
Cultural Events
The ISBS2011 symposium will integrate parallel relevant cultural events.
---
Visits to this page: